11 Reasons Why You Should Take The Mardi Himal Trek
Mardi Himal is less than 20 km north of Pokhara and is the southernmost summit of the Annapurna Mountains. The first ascent was done in 1961, via the east wall. This is the most used route so far. Attempts to climb via the south wall have so far failed.
The mountain lies in the extension of Machhapuchhare (which lies on the Southwest of Mardi) and is most visible from the south. The southwest wall has three clear rock ridges, separated by hanging glaciers .
Mardi Trek is fairly a new route for all the trekking lovers in Nepal.It can be summarized as a walk through beautiful forested areas to rocky mountain terrain and several base camps that can have snow depending on the time. It has become a go-to name for someone who wants to travel but doesn't have enough time.These are the top 5 reasons why you should go on a Mardi Himal Trek :
New Route
The trekking trails for Mardi Himal Trek was made public in 2011. That is why the trail is less crowded. The trail goes through forests and is the best easy camping trek in Nepal. The route was previously popular just with the campers because it was not made public.
The route is fairly simple and is expected to have 10x the number of tourists by 2030.
If you are looking for an easy teahouse/ camping trek this might be the ideal trek for you.
Combine It
If you don't want to just do one trek , this trek can be combined with a lot of other treks. Mardi Trek lies is done in the Annapurna region and the region has a lot of treks that can be done. You can combine your trek with a strenuous Annapurna Base Camp or an easy Poon hill trek.
Annapurna Base Camp And Mardi Himal Trek Combined
The Annapurna Base Camp Trek combined with the Mardi Himal Trek is known as the best Annapurna Trek in Nepal in the Annapurna Himalayan region. It's a moderate trek.
Also, Annapurna base camp trek combined with Mardi Himal Trek results to a trek with one of the world's best views of spectacular mountain.
It would only take you 7 days to complete the Mardi Himal Trek. And the combined trek takes around 13-17 days and can be done by someone who has had no past experiences of trekking.
Khopra Danda Trek And Mardi Himal Trek Combined
Khopra Danda combined with Mardi Himal trek results to a classic tea house trek which offers views of Annapurna, Dhaulagiri, Machhapuchhre and Manaslu ranges.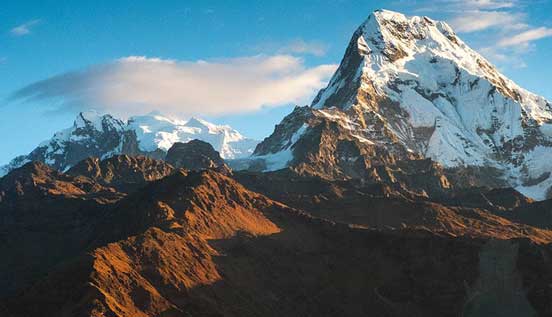 This combined trek takes 17 days and is also sold as a packaged trip here in Nepal. The trek mostly only revolves around forests and is one of the easy but awesome treks that you can find here in Nepal.
The Height
Most of the easy treks are easy because they are not a huge elevation. It's not true for Mardi Himal Trek. Mardi has an altitude of 3580m which doesn't sound that huge but it is .
Save Time
Mardi himal trek has the shortest itinerary that any other trek has. The trek lasts for only 8days. If you are looking to save time and money this trip will not let you down. The total distance of the trek is around 64.30 km.
Plus, you'll be saving a lots of cash since the trip is short.
Fresh Food
Most of the tourists that visit Nepal actually worry about the food. There's a fundamental difference between Asian and American food. Asian food is usually more carbohydrate based. But the fact is you'll be burning a lot more calories, so carb based diet isn't bad.
Furthermore, the diet is actually good. Traditional Dal Bhat with some chicken curry, pickle and papad is probably the best thing that you can eat. It won't be as good as food from 5 star hotels but it certainly won't be as bad as a DIY Masterchef dish. However, you might want to taste the food before you serve it on your food because Nepalese love spicy food and you don't want to ruin your trip because of some spicy food that you couldn't avoid.
The food that you'll get during your trek is organic and fresh. We suggest you to try those fresh corn bread in the forest camps.
Plethora Of Routes
Mardi Himal has a number of different trekking route :
The first route of Mardi Himal Trek starts from Dhampus and ends in Mardi Himal Base Camp
The second route adds Australian camp in its way
The third route is from Lwang
Another route is Ghalel – Kalimati – Forest Camp
Sidhing village low camp (This route doesn't require ACAP permits)
The Views
The views around the Mardi Base Camp is spectacular. You'll get a close up view of mountains like Annapurna South, Hiunchuli, Annapurna Fang, Annapurna I, Mardi Himal and Machhapuchhre.
Beautiful Sunrises
Mardi Himal Trek is also known for its beautiful sunrises. When the sun rays hit the mountain and the white mountains turn into yellow and you are standing way high up than the clouds, trust me you'll feel like you are in heaven.
The Colours
If you go during the winter , all you'll see is white and if you go during the summer all you see is red. Sounds confusing? It's because during the winter all you'll see is snow over the trees and if you go during the summer you'll just rhododendron over the trees.
A Lot Of Camps
The base camps are the places from where you can enjoy the views. There are a total number of 8 camps in the Mardi Himal Trek route :
Australian Camp (1,650 meters) – The most tea houses available
Pitam Deurali (2,100 meters) – enough rooms
Kokar Forest Camp (2,600 meters) – enough rooms and great food
Babal Dada Low Camp (3,150 meters) – The best view of the Mt Machhapuchhre throughout the trek
Middle Camp – lodges under construction
High Camp (3,600 meters) – limited space and lodges under construction
Base Camp (4,500 meters) – Tents need to be brought on your own, no lodges
Sidding (1,750 meters) – great lodges
On Your Own
The Mardi Himal Trek has a fairly simply route. So, if you are willing to travel on your own that would be fine too. The main advantage of traveling by your own is that you'll have complete independence and the cost will be the minimum. The downside of it is that you'll have to do everything on your own and you'll be more vulnerable to accidents and sickness.